Our apparel and decoration services focus on the corporate environment rather than the individual/hobby environment. Typically, it is an item that carries a logo and/or slogan in embroidery or screen print. We offer a low minimum quantity of24 pieces with an identical imprint.
All apparel is custom selected and custom decorated. Therefore, each project will be quoted based on all necessary criteria. Please be prepared to help us by providing as much information as possible. If the criteria changes during any phase of the process, pricing will be adjusted accordingly.
Because garment content, garment features and fabric treatments are different in the retail environment vs. the promotional products environment, we require that all apparel items are selected from one or more of our highly trusted manufacturers.
Additionally, while it is rare, there is always the possibility of damage to items during the decoration process. If you bring us your items and there is damage, despite our best efforts to prevent the possibility, we do not replace the items. When we acquire items from our manufacturers, we replace the items at no cost to you. If there is no way to avoid you providing the apparel, we require a signed waiver to acknowledge this risk before the order can be accepted.
STEPS TO START YOUR CUSTOM DECORATED APPAREL ORDER:
Select and Review Products available from the recommended apparel manufacturers links shown below. If you cannot find an acceptable item from one of these, please contact us by email or phone for additional guidance.
Many options are available but may not be shown on this website. We are happy to research and recommend other products. We do have access to quite a few brand-name apparel items as well. However, we do not carry, nor decorate, all retail products (such as Kohl's, Target, Macy's or JC Penney).
Click on the pictures below to view online catalogs of apparel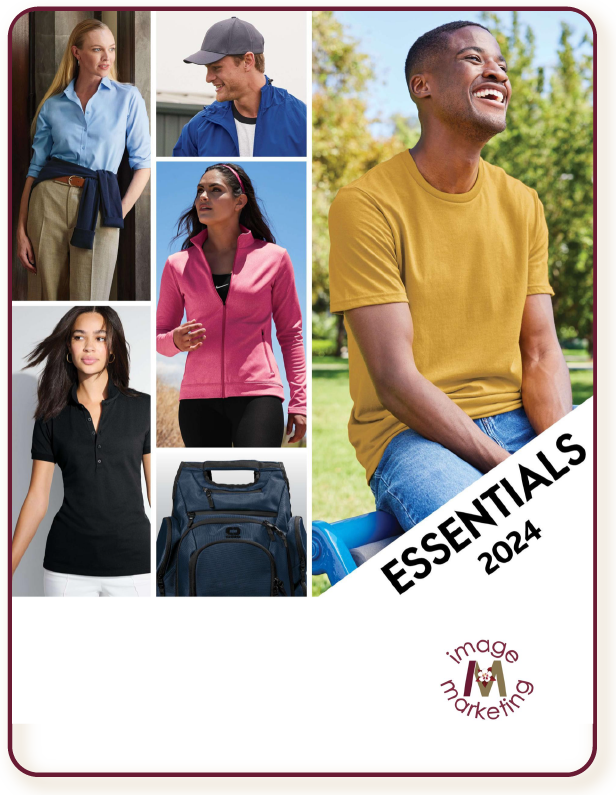 Determine the decoration that you want.
Embroidery; Screen Print; Sparkle; Fabric Laser Engraving
In all decoration situations, not all colors of embroidery thread and screen print ink are available. We will work closely with you to find solutions for your custom needs.
Please provide production-ready art for the imprint you would like. If you do not have that, Image Marketing can help you develop it. Please note that the fee(s) for creating the art will be listed as a separate line item in the project estimate.
All decoration requires a conversion from computer-generated art to production/decoration-ready art. This necessitates an additional fee. It will be described and priced in the project estimate.
Contact Image Marketing to begin the process.
We will need to gather all your information and provide you with an estimate of pricing before we begin the project.
All projects must be approved in writing and a pre-payment amount is required.
2023 Note:
Due to unstable world-wide conditions, please be prepared to consider substitutions for product and to allow for much longer production times.
Embroidery: Currently production can be as much as 4 weeks.
Screen Print: Currently running approximately 10-15 business days.
Other Decorating Processes: Will be determined and quoted during the estimating process.
Image Marketing will provide a more accurate production time during the estimating process. Do be aware that unexpected issues can cause a change during the production process.
At this time we are not able to give generic price estimates.
Please do contact us to narrow your criteria and we will help you make the best decision for your project.

Important Information
All orders and projects require prepayment

In most cases, orders for branded merchandise will be shipped directly to your location
You may pay by credit card or check. We will send you an Invoice or Payment Request by email. If there is a balance owed due to situations such as a slight overage of product, shipping being higher than estimated or when design work takes longer than estimated, the same PayPal procedure will be used.